The original Mobotix home automation MxDisplay features incude:
Attractive flush or surface mount design in black or white finish to enhance any home d&eacutecor.


Intuitive gesture-supporting touchscreen user interface.


View and control your Mobotix T25 door station and up to eight Mobotix IP cameras.


Answer video intercom calls from your Mobotix T25 door station on your Mobotix MxDisplay, or on a Smartphone, an Internet tablet, or a PC.


Easily access recorded video, audio, and door station messages.


Tap the key icon to show the live image of the door intercom, from any menu page.
Tap and hold the key icon to open the door or gate near the door station.


Secure PIN or proximity card authentication is supported, if required.


RFID access control cards may be issued, changed or disabled from your MxDisplay. Access control management is supported directly on your Mobotix MxDisplay and includes: Individual names, access permissions, restrictions to certain hours and days, logging of all entries and entry attempts.


Wired LAN with PoE support over a single Cat5/6/7 cable for easy wired installation.


WiFi client support for wireless connection of the Mobotix MxDisplay to your LAN, with only a local 12-24V power supply connection required.


WiFi access point support allows your Mobotix MxDisplay to provide WiFi and Internet connection to your wireless smart phones, Internet tablets, and PCs without requring a separate WiFi access point.


Use all functions of the Mobotix MxDisplay in the same manner from Smartphones, Internet tablets and PCs, which may log into the MxDisplay via the wired or wireless LAN network.


A 5-50V 1A relay output for switching devices is supported on the MxDisplay. Additional input/output devices, sensors, or satellite time receivers may be connected via the encrypted MOBOTIX two-wire bus.


Home automation and integriti security panel integration support allows particular camera views to be automatically shown when nearby doors or gates are operated, or movement is detected by security or home automation occupancy detectors, or some other automation or security event occurs. A call from a Mobotix T25 door station may also be automatically initiated.


Available in Australia from Clever Home with Australian warranty support. As with other high quality home automation components, you may enjoy greater value by asking a Clever Home automation Engineer to professionally design and program your Mobotix MxDisplay - either as a superb quality standalone home video intercom and surveillance system, or as an integrated part of a larger home automation solution.


The new upgraded Mobotix home automation MxDisplay+ also features:
A powerful processor that almost doubles the video frame transfer rate.


Up to 60% more details when zooming: MxDisplay+ retrieves high resolution 1024 x 768 pixel camera images for display on its 3.5" 320 x 240 pixel display.


Easy-to-use (full duplex) hands-free voice communications with MOBOTIX T25 or S15 Door Stations, in addition to Push-to-Talk mode.


Improved 16-bit 16 kHz HD sound quality, now with automatic volume adjustment, an integrated equalizer and improved echo/noise suppression.


Indoor and Outdoor versions of the MxDisplay+ are now available, so you may now enjoy the convenience of answering calls from your front door or gate from your rear yard, courtyard, alfresco or balcony. The new outdoor MxDisplay+ has an IP65 rating and is suitable for ambient termperatures from -30°C to 60°C.


The previous original MxDisplay limit of eight integrated cameras no longer applies for the MxDisplay+.


More input/output support: the MxDisplay+ has three new signal inputs, a new terminal connector for an external temperature sensor - in addition to the relay output and MxBus connection for MxBus devices that was also available on the original MxDisplay. From MxDisplay+ free firmware 2.1.0.X onwards, a new "floor call feature" is supported whereby a nearby perimeter door strike and call button may be wired to an MxDisplay directly, in addition to the remote door/gate being wired to the external Mobotix T25 door station. This firmware also supports connection of a temperature sensor directly to each MxDisplay+.


The new MxDisplay+ maintains the same dimensions and installation process as the original MxDisplay and its mounting frames.


Free MxSoftPanel software provides MxDisplay+ functionality on your computers: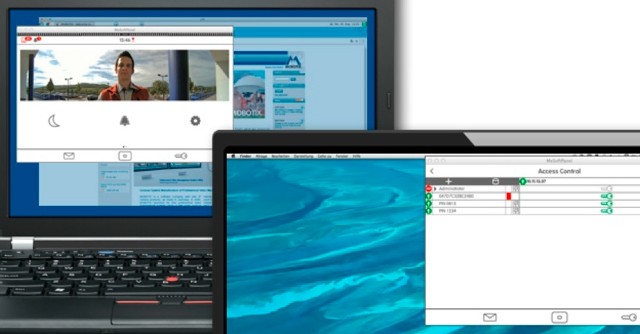 MxSoftPanel is free stand-alone application user software that supports the same user interface as the MxDisplay+ and most of its functionality (other than RFID reading and training, and the firmware 2.1.0.X multi-entrance floor call function).


MxSoftPanel free software is available for Windows or Mac OS X-based laptop and desktop computers.


MxSoftPanel supports a fixed resolution of 800 × 480 pixels, and on a large computer monitor makes it easy to change access control settings (e.g. entry permissions, entry times, adding/removing new PINs).


Remotely edit the entry PINs in your automated home, or holiday home, from anywhere in the world with MxSoftPanel free software on your Internet connected laptop.


While we recommend that you have at least one MxDisplay+ installed in your automated home to provide a fixed video intercom station in-wall location that you know is always working, and to support easy RFID card reading and associated access control management - installing free MxSoftPanel software on your laptop and desktop computers gives your additional easy ways to respond to T25 door station video intercom calls from within your automated home, or anywhere in the world on the Internet.


Download your Free copy of MxSoftPanel software for your Windows or Mac PC now.